Introduction
Copy trading is a strategy in online investing where users replicate the trades of successful traders, effectively leveraging their knowledge and experience. Ideal for beginners or those lacking time, it provides a practical learning experience and potential for higher returns. Users observe strategies and trading patterns of seasoned investors, learning to make informed decisions. However, it's important to note that past performance doesn't guarantee future results. Even experienced traders can make losses, and thus diversifying copied traders is crucial for risk management. Despite the risks, with careful use, copy trading is an influential tool for modern investors.
ZuluTrade
ZuluTrade is an online social and copy trading platform that brings together the global trading community. It enables users to mimic the trades of experienced traders, providing a practical tool for novices or those with limited time. The platform offers a diverse array of trading instruments including Forex, commodities, indices, and stocks. Transparency is at its core, with each trader's performance metrics and risk ratings openly displayed. Coupled with its user-friendly interface and robust customer support, ZuluTrade is a dynamic platform empowering individuals to navigate the world of online trading with confidence.
Also Read – ZuluTrade Trading Tools
User Experience and Interface
When you first step foot into the world of ZuluTrade, one can't help but appreciate its clean, intuitive user interface. It's been designed keeping all levels of traders in mind – whether you're a beginner just starting out or a seasoned trader seeking to diversify your investment portfolio. Navigation is simple, and the platform provides ample information to keep traders informed about the potential risks and rewards. The website, as well as the mobile application, offer a seamless experience and are consistently updated to ensure the best user experience.
Diversity of Trading Instruments
ZuluTrade truly shines in the range and diversity of trading instruments it provides. You can delve into the world of Forex trading, commodities, indices, and stocks from various global exchanges. This vast selection empowers users to create a diverse and balanced portfolio, mitigating risks and enhancing potential returns.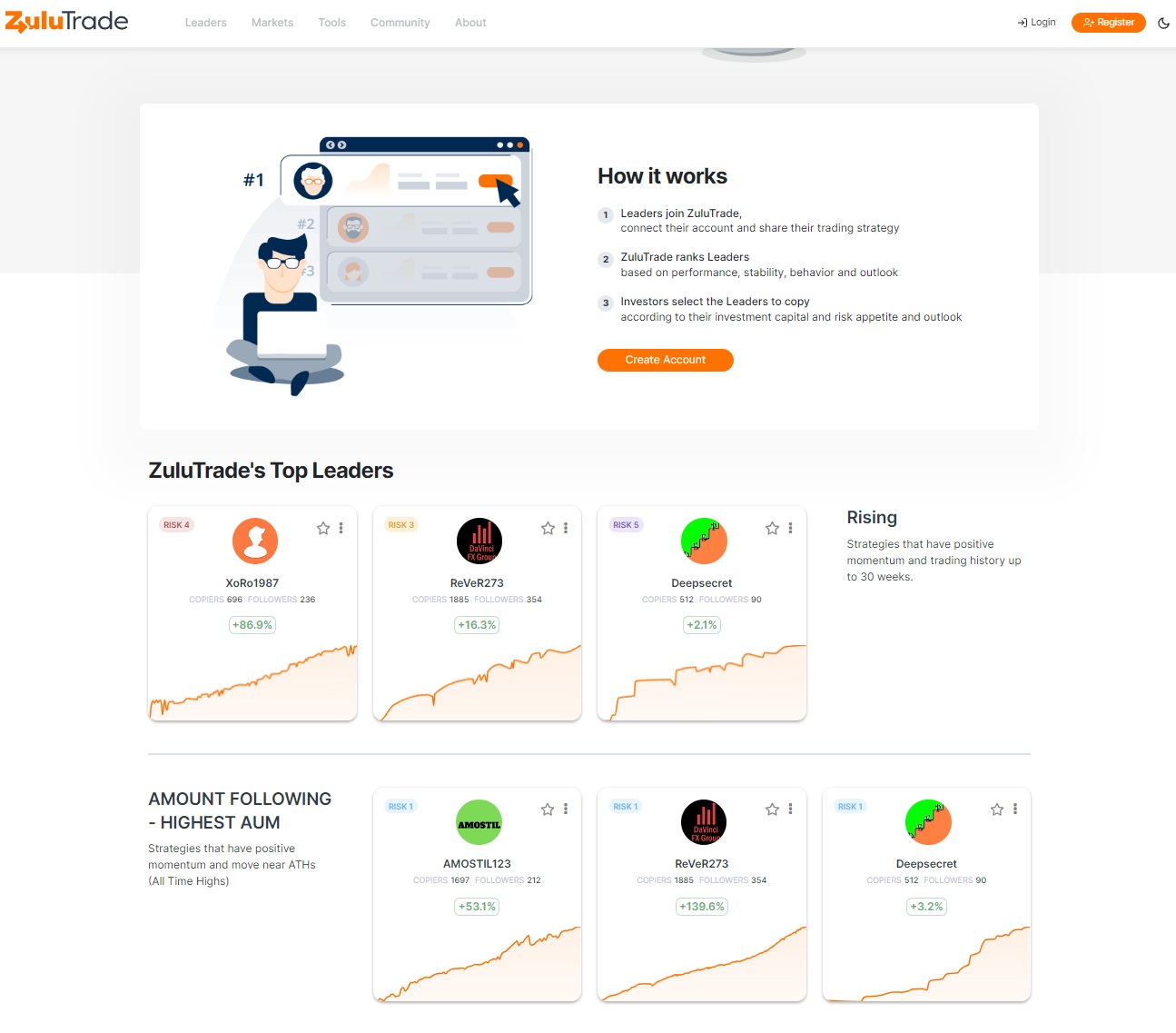 Copy Trading Mechanism
The key feature of ZuluTrade is, of course, its copy trading mechanism. It allows users to mimic the trades of successful traders, an excellent feature for those just starting out or those without the time or inclination to track the markets. This system is robust, with a broad selection of traders to copy from. Each trader's history is transparently displayed, along with their performance metrics and risk rating, to help users make an informed decision.
Customer Support and Educational Resources
ZuluTrade's customer support is responsive and professional. The platform provides round-the-clock assistance, allowing traders to resolve any potential issues promptly. What further distinguishes ZuluTrade is its comprehensive library of educational resources. From webinars and tutorials to detailed FAQs and market analysis, it provides ample tools for users to learn and develop their trading skills.
Conclusion
ZuluTrade proves itself to be an effective and accessible tool for both seasoned and novice traders. Its user-friendly interface, diverse trading instruments, effective copy trading mechanism, and strong customer support make it a reliable platform for trading. The wealth of educational resources also ensures that traders can continually learn and improve their trading strategies. If you're considering diving into the world of online trading, ZuluTrade certainly makes a compelling case.