SoulPages Mentors see lives transformed with hope
What would your life be like if you were able to use your love of visual journaling to actively improve people's sense of wellbeing and satisfaction? When Rakefet Hadar created SoulPages, her intent was to train mentors across the world in the transformative method that took her years to develop. SoulPages mentors can use watercolor journaling and mixed media to help infuse people's lives with hope.
Art and watercolor journaling is one of the hottest global trends. It invites people to explore their creative side, freeing them to play with collage items and other mixed media without fear of judgment. Visual journaling, as taught using the SoulPages method, guides the student through the joyful experience of the art journal while delving into deeper insights and connections with personal values. You'll play a transformational role in your student's lives by:
Helping students identify and reframe barriers to personal growth

Supporting students through difficult times

Reconnecting students to what is truly meaningful in their lives
As a mentor for SoulPages, you play a vital role in creating a playful and safe space to explore new ways of thinking. In a world that is open for business 24/7 and where people are constantly connected to their phones, your role as a SoulPages mentor invites the student to slow down and let their inner wisdom express itself through intuitive inquiry, colors, images, and the art journaling process. 
SoulPages Mentor Training prepares you by immersing you in the process of the seven elements as seen in Hadar's book Layers of Meaning, then teaches you how to create meaningful experiences in visual journaling for your students. As Hadar says, teaching SoulPages is a "field that touches the soul and walks the fine line between therapy and art."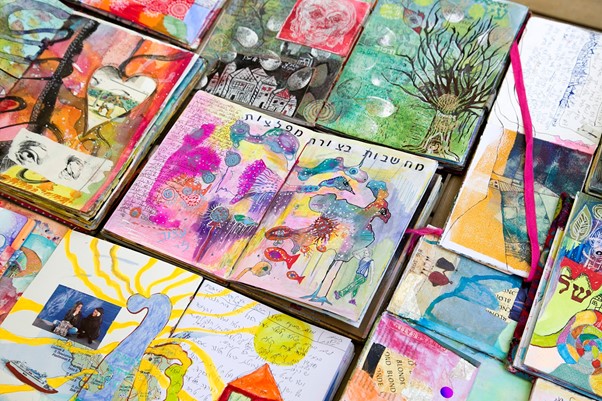 Previously referred to as "facilitators", Hadar realized that the role those who complete her training program fill is actually more like a mentorship. The professionals in her program use the SoulPages method to transmit their own body of knowledge in an experiential way that allows for greater wisdom in their students. Rather than teaching from a hierarchical position, SoulPages mentors walk alongside their students, exploring and identifying positive steps forward with compassion and hope.
SoulPages mentors are enjoying dynamic results from the program. Those who take the SoulPages Mentor Training come from a wide variety of backgrounds, including therapists, artists, entrepreneurs, meditation teachers, and makers of all kinds. Here are some of the things they tell us after completing the program:
"Students tell me these are the most meaningful classes they've ever taken."

"My students love visual journaling using the SoulPages method! They are begging me for more classes!"

"Being trained as a SoulPages mentor offered me just enough structure to do the work I wanted while allowing me the freedom to be myself."

"I get to play while doing heart-centered work!"
Are you looking for a fun, creative way to help nurture others to reach their higher potential? The exciting SoulPages Mentor Training program teaches you to incorporate a limitless mosaic of techniques to coax out the beauty often buried deep inside the souls of your students. The best part of it? They get to play with watercolors, acrylics, and other beloved art materials as part of the process. The resulting visual journals that you've helped them create will become some of their most prized possessions—true documentation of the soul's journey through transformation and grace. Sign up today for the next SoulPages Mentor Training.